There are places where those who enter come out as different people, having left something of their soul in that place and taking a piece of its atmosphere with them forever. Mostly unknown to even Romanian travelers, the country has some corners of heaven hidden deep between the mountains. There, time and space are only relative concepts and one can have a clear image of what life used to be like and maybe what it's supposed to be. Traveling should be so much more than just seeing and forgetting, it should be about understanding and growing from the experience… about immersing into the spirit of the place and taking time to observe and grasp the deeper meaning of everything one feels. Where elsewhere in the modern world such places can only be seen in museums and books, some remote villages and hamlets in Romania are unique examples of a perfect and peaceful way of living in perfect harmony with the natural world, just like the Fundatura Ponorului heaven, one of the most beautiful places in the country.
Far from the whirlwind of the unleashed world, Romania still has places where the authentic rural life hasn't changed much in decades, if not centuries.
The enchanting Orăștie Mountains are located in the heart of Romania, in southwestern Transylvania, including the remnants of the ancient Dacian civilization, including the inspiring capital of Sarmizegetusa Regia. Throughout the gentle wooded ridges and valleys of these mountains, there are remote and secluded rural communities that still preserve the old traditions of these lands. Sometimes only a few houses and cottages spread over unbelievably magical landscapes, these places remain a living connection to the past and to the authentic way of life. Fundatura Ponorului is such a small settlement discovered by travelers recently and quickly becoming a popular hiking destination, maybe ruining part of its peaceful atmosphere. Rightly surnamed the "Palm of God", this little hamlet consists of a few small farms spread over a magical valley, far away from civilization. A small lazy creek bends its way through the valley among fields and wild pastures. The few people that inhabit this almost surreal place only come to tend their crops and animals after the snow melts and leave before winter.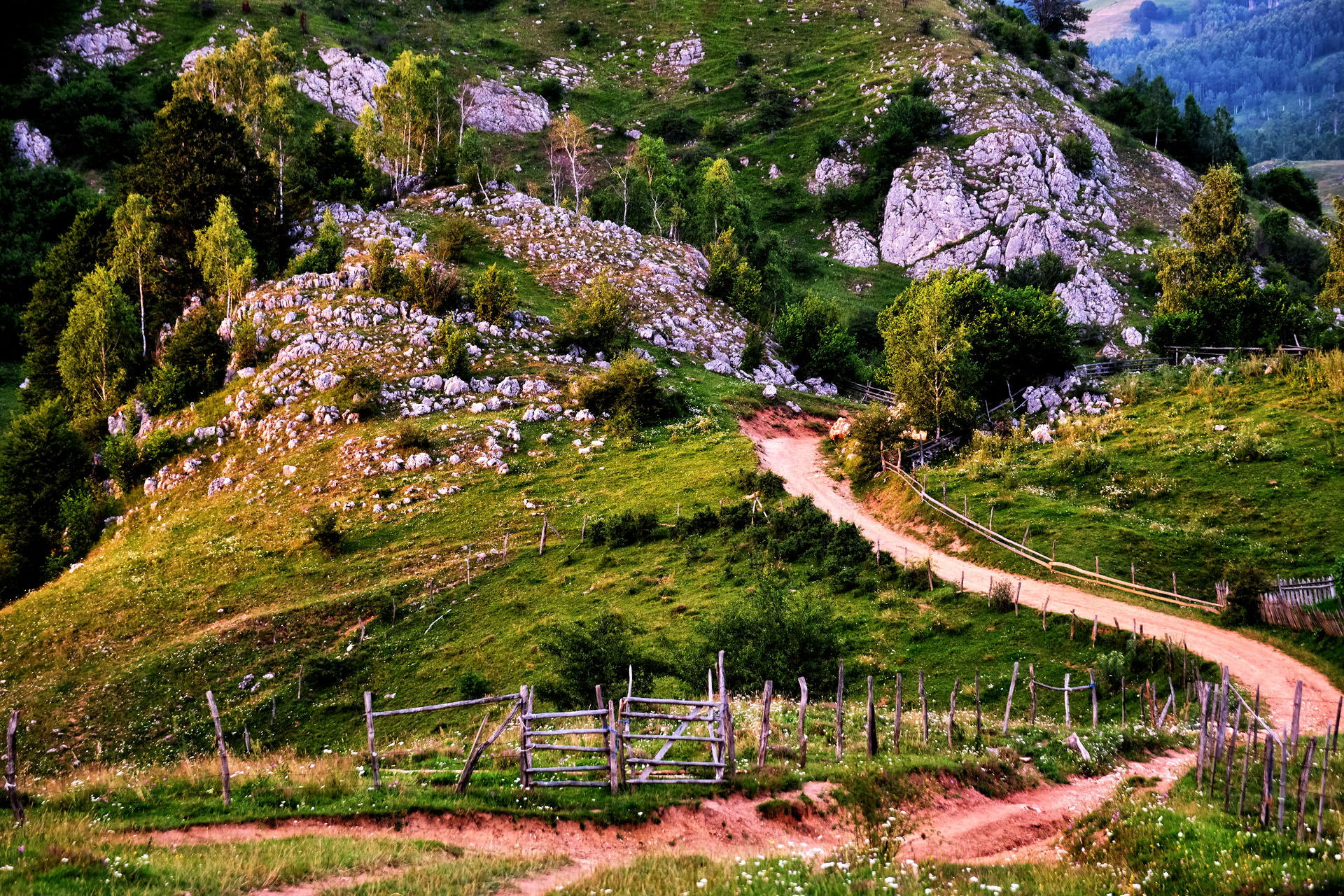 Getting to Fundatura Ponorului is hard by any standards, with a long and twisting road up that only the most capable vehicles can manage. As a matter of fact, the best way to visit is by hiking for about two hours from the nearest village called Federi. There are several paths that cross the mountains towards the remote valley and only the locals will be able to help travelers navigate them with ease. Fundatura Ponorului is not a travel destination and should not be regarded as such… There are no shops on the way, there is no accommodation nearby, there is nobody speaking English among the villagers. Yet it is a place that inspires peace and joy inside those who see it for the first time. Spring and autumn are especially charming in this place, with incredibly picturesque rural scene is developing everywhere. Lonely shepherds and oxen-driven carriages can be met from time to time in an otherwise unbelievably peaceful heaven. Life is indeed hard here, but so beautiful and pure, with ancient traditions and daily customs that follow the passing of seasons. All along the way to Fundatura Ponorului, there are lonely wooden houses, some deserted today, surrounded by pastures and orchards. The whole area is made of limestone rocks and this can best be observed in the verdant valley at Fundatura Ponorului.
Accommodation near Fundatura Ponorului
9.7 Rating from 129 Reviews!
Located in the village of Râu Alb, about 20 km from Fundătura Ponorului. It offers family rooms with a nice ambiance and private bathrooms, a terrace, a playground, barbecue and more!
9.6 Rating from 812 Reviews!
The hotel is located in the town of Hațeg, about 30 km from Fundătura Ponorului. It has excellent reviews and features stylish and comfortable rooms, private parking a free Wi-Fi!
8.8 Rating from 106 Reviews!
Located in the village of Râu Bărbat, 15 km from Fundatura Ponorului, the guesthouse features pleasant rooms with bathrooms and other amenities, a garden and outdoor hot tub!