There are still remote Romanian villages where time seems to stand still and the modern world with all its troubles seems so far way that is seen as another dimension. These are places where the joy of seeing, of listening, of feeling is still present, where humans are still connected to the surrounding nature, where life follows its course unchanged for centuries. There are still people with pure hearts that remain linked to these places and refuse to descend from their heaven beyond the ridges and forests. A trip to such a destination is more of an existential experience, a veritable life lesson and a journey into ourselves and a discovery of supreme truths that really matter.
Such blessed places are still preserved in and some great examples are the remote Romanian villages of Ineleț and Scărișoara, located high above the Cerna Valley in the southwest of the country. These remote Romanian villages are some of the most secluded settlements in Romania, somewhat famous for the fact that they are accessible by climbing a long set of wooden stairs over the ridges. There are still a handful of villagers that have to venture along this challenging course each time they descend back to civilization. There is another steep path that ascends the mountain from another point, but its is a longer way and many still choose the stairs.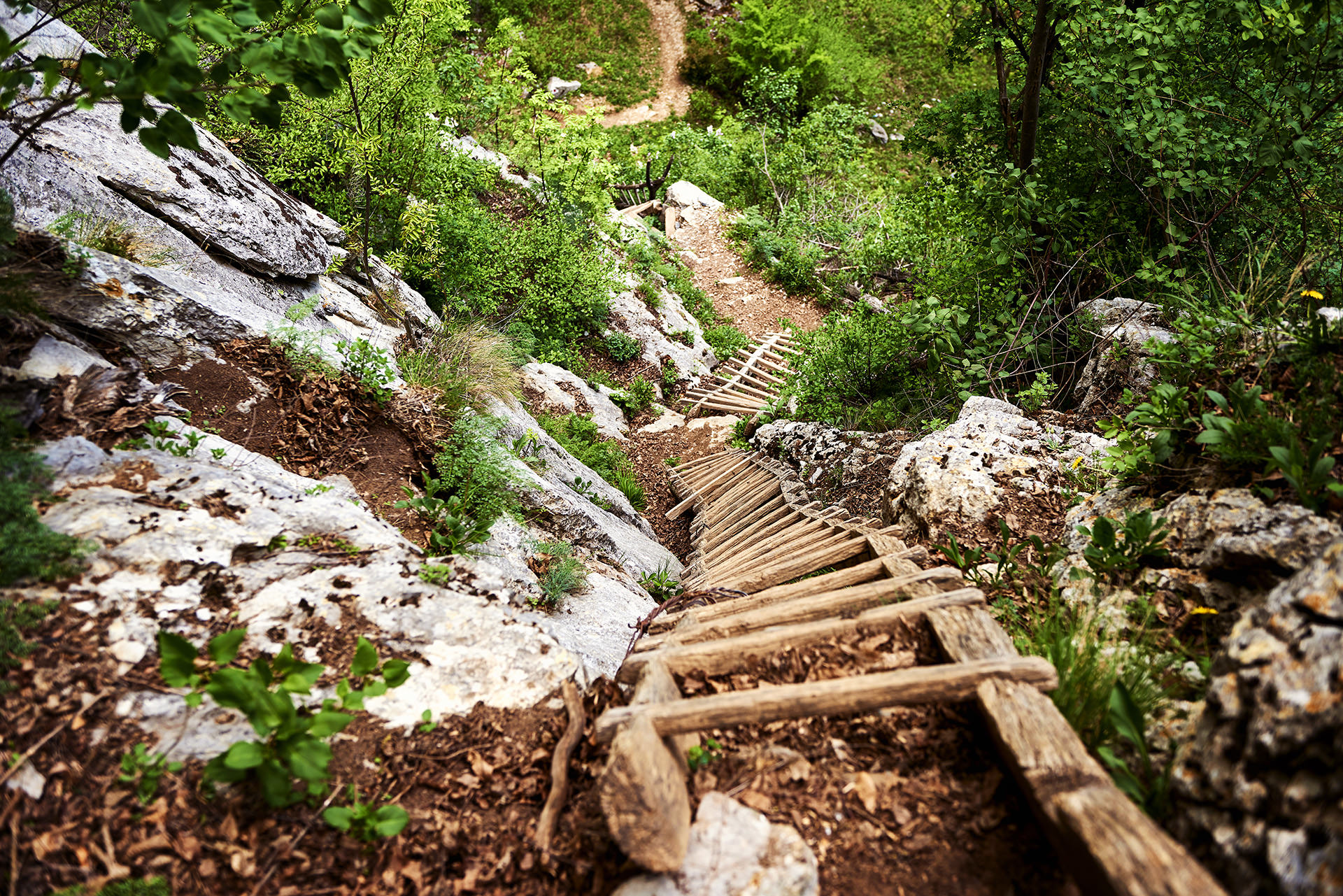 To reach them, travelers must first reach the wild valley of Cerna river and find an old abandoned bus station on the river shore, a few kilometers south of the crossroad between DN67D and DN66A roads. There is a small bridge over the river and by following the short path through the meadows, reaching the steep ridge in a few minutes. Along the mountain, there is a dizzying succession of wooden stairs that seem to hang in a precarious balance. Still, there are safely anchored to the rock and the only way is up and forward. If they dare face this challenging adventure, travelers will then continue along a charming path among forests and meadows. There is a tourist path marked with a red triangle towards the village, but the path is fairly clear most of the times. It takes about an hour to reach the small church and cemetery of Ineleț village. Surrounded by the enchanting ridges of distant mountains and the valley below, it is a spectacular sight to behold.
After the unforgettable panorama from the church, visitors choose to explore the village of Ineleț by following the path to the left or turn right towards the few houses visible in the distance, part of the Scărișoara village. Entering the village of Ineleț, the few houses are spread over the ridges and meadows of the mountains, with endless orchards and forests everywhere. Although more travelers have discovered these two remote Romanian villages, they remain unchanged with the few villagers working their fields as they were a century ago, living from the land as their ancestors did before. They rarely leave their village because of the tough descent, but being surrounded by such immense beauty must make up for the apparent seclusion.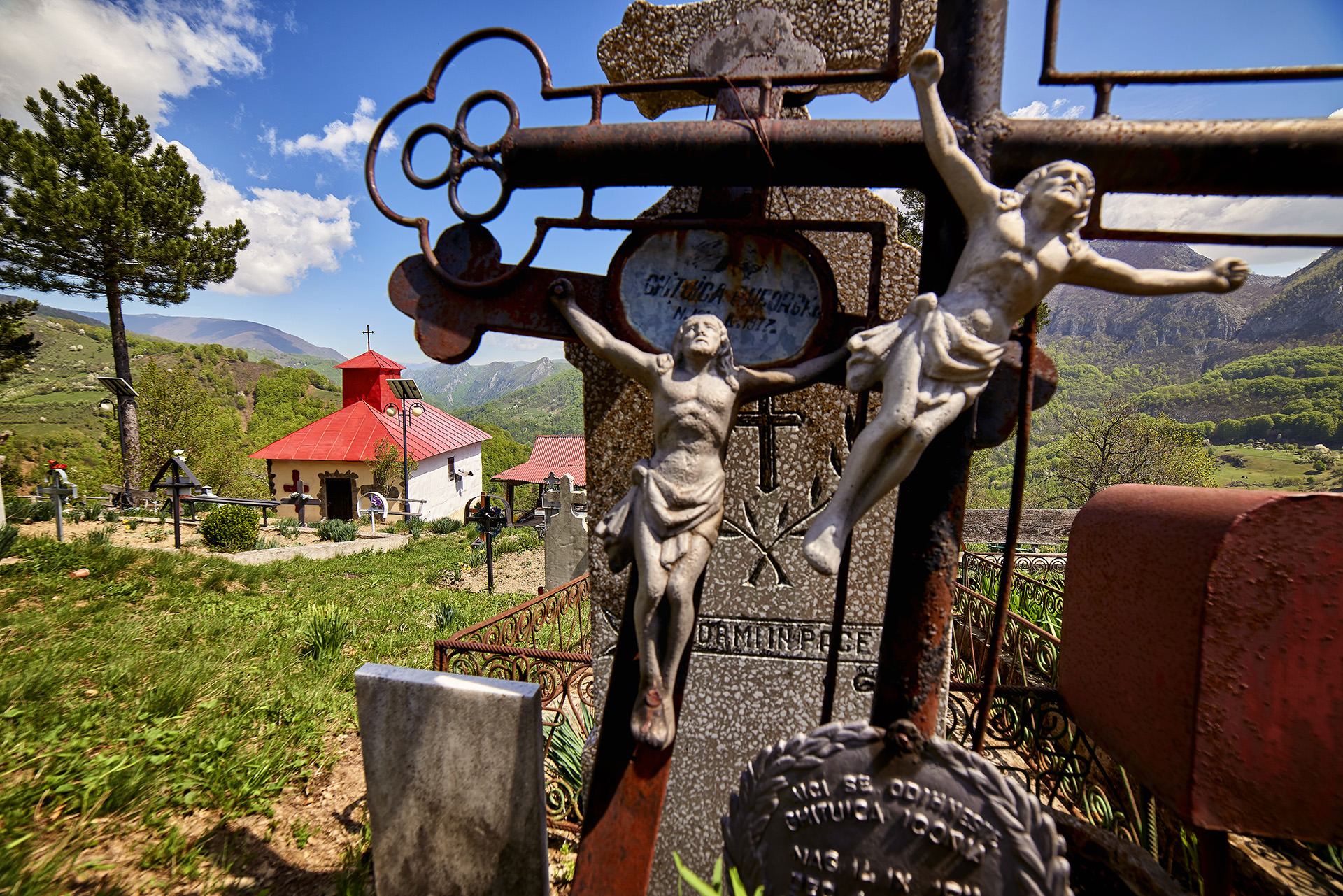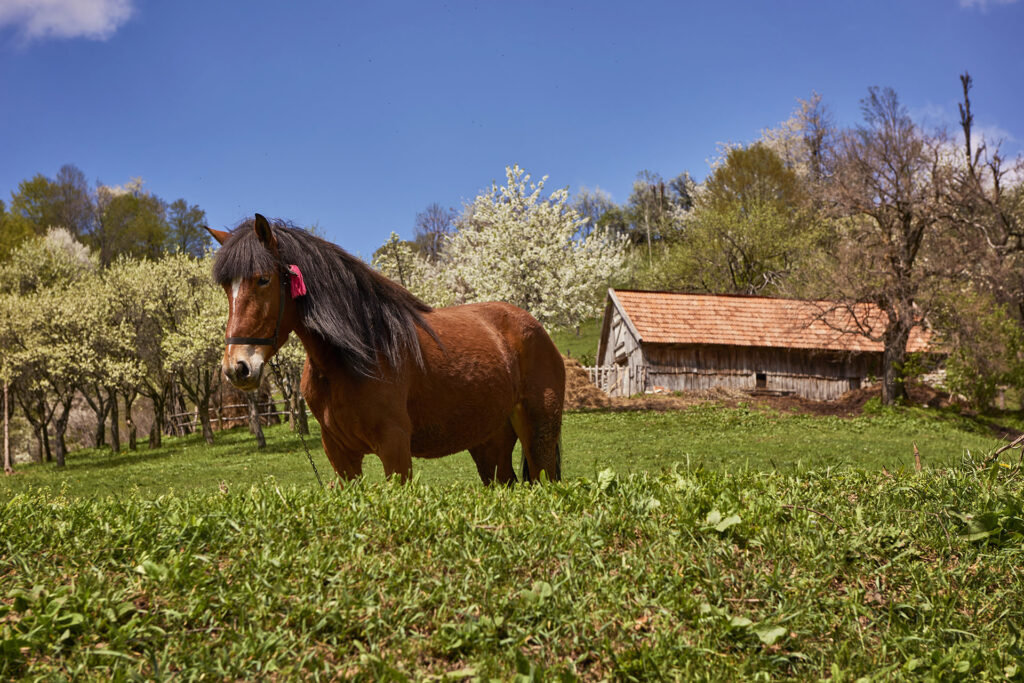 Visiting these places during early spring or late autumn is an astonishing experience, with either blooming trees or colorful foliage making for an unforgettable landscape. Travelers will meet few people along the paths, most of them working around their house or watching their sheep. Some of them will be open to talk about life in the mountains and their incredible life stories. It takes about 1-2 hours to reach the villages from the valley and returning after dark should be avoided as the stairs might be treacherous. There are countless other hiking paths crossing the Cerna and Mehedinți Mountains, making this valley an excellent travel destination. Nevertheless, traveling to these remote Romanian villages should be made responsibly, trying to not disturb the fragile balance and intimate atmosphere of such unique places!
Accommodation near Ineleț and Scărișoara
9.4 Rating from 197 Reviews!
Located in Băile Herculane, this new and modern hotel with amazing architecture offers spacious and fully-equipped rooms, a restaurant, shared lounge, bar and outdoor terrace!
9.1 Rating from 189 Reviews!
This superb guesthouse is located along the Cerna Valley north of Prisaca Lake, with several hiking trails starting nearby. It features amazing rooms, restaurant, bar, lounge and garden!
9.8 Rating from 247 Reviews!
Located in the middle of the Cerna Valley with idyllic surrounding nature, this guesthouse is close to the Ineleț mountain village. It offers high quality and comfortable accommodation!