The legends say that the monastery of Căldărușani was built over just 100 days in the year 1638, when the ruler of Walachia, Matei Basarab, discovered this idyllic place lost in the depths of the Vlăsia Forest that used to cover a huge surface during those times. Surrounded by the water of Lake Căldărușani and resembling a veritable fortress, the monastery is located on a small peninsula, about 30 km from Bucharest. Visiting this spiritual place offers a touching and emotional experience, travelers being able to uncover one of the most beautiful and important monasteries in this part of Romania.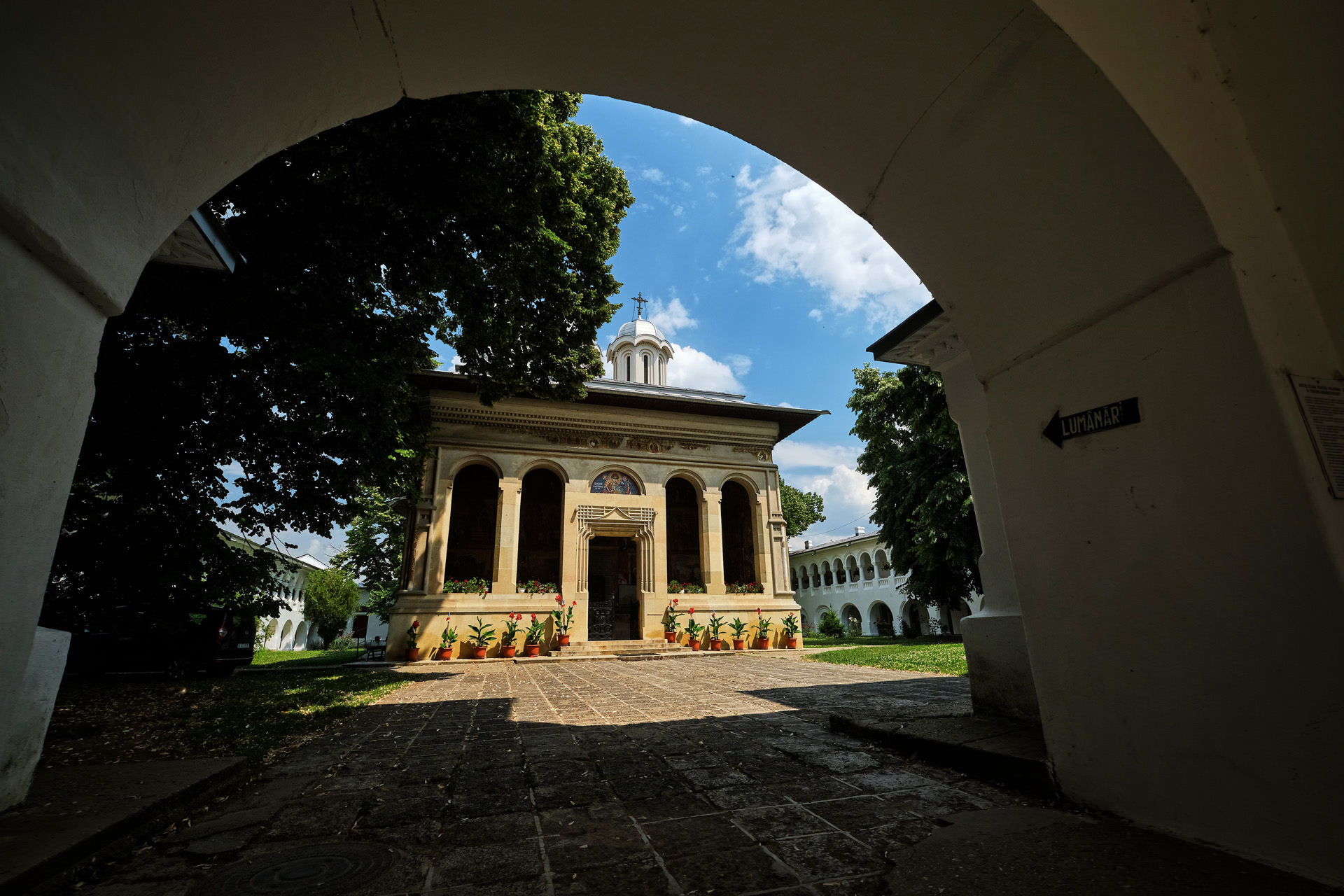 The monastery was constructed on the place of an older wooden hermitage cared by several monks. According to the legend, the ruler Matei Basarab chose this place after he got lost in the forest of Vlăsia on his way to a battle. One thing is certain, the imposing monastery surrounded by water grew across the centuries, becoming a renowned religious and cultural center, with many personalities being drawn by its fame. The first description of the monastery was done in 1653 by Paul de Alep who traveled through the Romanian countries with the patriarch of Antioch. He praises the natural and architectural beauty of the monastery and its church dedicated to Saint Demetrius. During the reign of Alexandru Ipsilanti, the monastery of Căldărușani is led by the prior Gheorghe of Cernica, later sanctified by the Romanian Orthodox church.
Along the centuries, the monastery passed through flourishing times, when it used to include lands, vineyards, lakes and villages, becoming one of the most vibrant centers of religious life in Romania. Many amazing artistic masterpieces were created at this monastery, especially valuable manuscripts and icons. Part of these can be found in the museum collections that can be discovered inside the Căldărușani Monastery. The monastery is an impressive complex, at its center sitting the St. Demetrius Church, surrounded by the monk's cells on two levels, the bell tower and the eastern wall. From the original paintings of the church only a small portion are preserved, but the later frescoes and the interior icons are also spectacular. The complex also includes a chapel located in the monastery cemetery and built during the 19th century. Travelers can also visit the nearby monasteries of Snagov, Țigănești or Cernica.
Accommodation Near CAldAruSani Monastery
Rating 9.4 from 630 Reviews!
This luxurious accommodation complex is located in Snagov, featuring superb rooms with all amenities, a prestigious restaurant, access to a swimming pool and spa!
Rating 9.5 from 17 Reviews!
Located near the beautiful settlement of Snagov, several km from the monastery, this excellent villa offers two rooms, a fully-equipped kitchen, lounge, garden and pool!
Rating 8.4 from 158 Reviews!
Located in Snagov, this amazing traditional guesthouse features large rooms with garden views and all amenities, breakfast, terrace, playground and free parking!